Product : Slat adjustable bed

1. Cherry red color bed frame, with bright and smooth birch wood and slats.
2. Electronically ajustable bed base can rise or recline automatically;
3. Motorised with Duomat drive(2x 3.500N),2x4500N,2X6000N, Hand-switch on cable.
Motor with CE, TUV, ROS certificate, it is safe and health care bed.



Slat adjustable bed:
Single measurement: From: 190x80cm, 190x90cm, 200x80/90cm up to 204x107cm...
Packing: Carton box;
Load weight: 180kg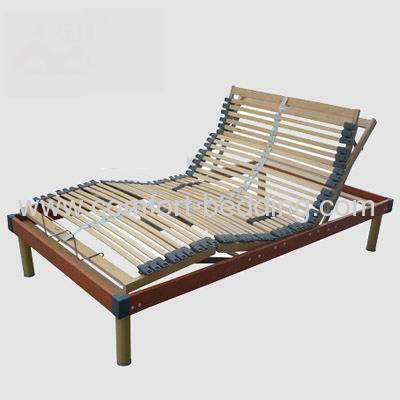 Slat adjustable beds




Side of adjustable bed

Our recommendation for the mattress:
1. High-grade memory foam or latex are the most suitable core materials
2. The ideal core height is 13 - 20 cm
3. The specific gravity of a foam mattress should be at least 50kg/m3 (110.23lb/1.30 cu yd)
4. Choose your cover to suit your personal needs and preferences
5. When deciding on hardness, do not hesitate to try a softer version.