Adjustable Bed is designed to conform to your body structure, relieving muscle strain, particularly in your neck, back, midsection, hips, legs and calves. Nervous tension is reduced. The pain of sore, aching muscles and joints is temporarily relieved. Common backache is eased. The quality of Adjustable Bed promotes deep restful sleep!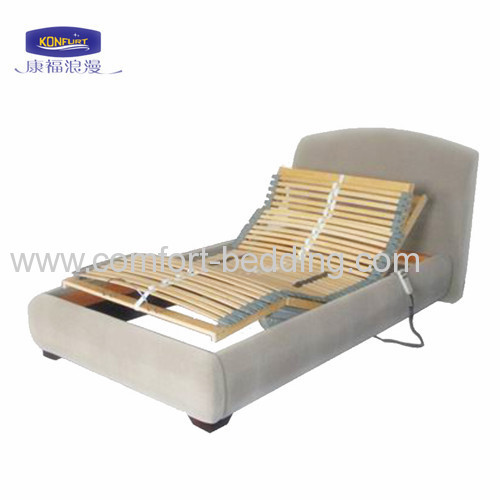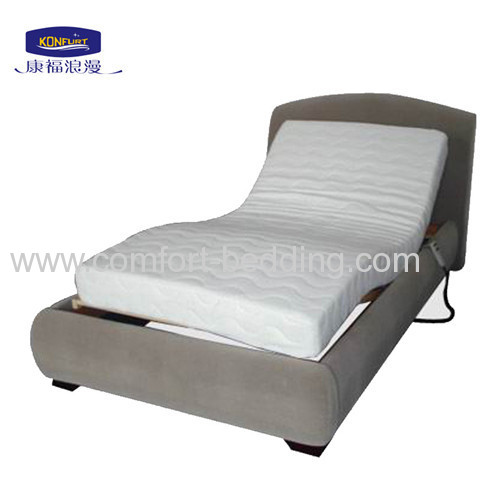 Feature of products:

Slats adjustable bed with light grey wooden surrounds include headboard,sideboard and footboard.

Item no.:comfort580
1)electronical adjustable bed base can rise or recline automatically;
2)helps increase circulation and relaxes tired muscle
3)motors are permanently lubricated.
4)Mattress stays even eith base giving tobal neck,head and shoulder support
5)The backbone of our adjustable unit is built to last
6)Mattress retainer-keeps mattress in place during adjustments
7)Whisper quiet dual dc motor system –allows individual position adjustments without dusturbing the other sleeper
8)Head and foot lift motors –independent control;ul listed and IECEE certified
Becomfort adjustable bed allowing you to easily position yourself as you read,study,watch television,talk on the phone,relieve back or muscle strain,sleep and even play video games
Bed measurement:
From 80*190cm to 107*210cm for single sizes
Packing:individual paper carton
We use duomate motor,5 years quality guarantee